Best Practice ITIL® 2011 Processes of Service Transition
Service Transition according to ITIL® is in charge for the error free coordinated transfer of new respective changed IT Services from Service Design to production with
continuously managed Changes

validated and tested IT Service Contributions

completely documented Configuration Items.
Processes of ITIL® 2011 Service Transition in detail
Main information flows and interfaces of ITIL® 2011 Service Transition
Click the image for a bigger view in a new window
(Documents within information flows only visible in our ITSM Process Collections)
Responsible roles of Service Transition
► Emergency Change Advisory Board
Performance indicators of Service Transition
►
KPIs of Release and Deployment Management
►
KPIs of Service Validation and Test
►
KPIs of Configuration Management
►
KPIs of Project Management
---
And now - how to realize this?
Chose our best in class process oriented approach based on practice proven process templates!
Stop unessential spending for external consulting and start towards a goal oriented implementation
All details about the process oriented implementation of Service Transition according to ITIL® 2011
detailed interface diagrams with description of information flows

descriptions of the separate processes with process step details, responsibilities and involved roles (RACI) and involved systems as well

checklists for the implementation
you may find within our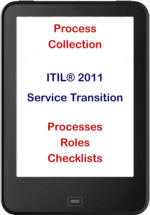 ---
Free access to our ITSM Archive!
All customers of the complete package of five ► ITIL® 2011 process collections will get an everlasting access to our ITSM Archive (templates, KPI proposals, checklists) which we are creating during the further development of our ITIL® 2011 Process Library - thus you receive always the most actual ITSM documents independent of the purchasing date for free!
Please click the above button in case you want to be informed in case of an update of our ITSM Archive.
---
ITIL® and IT Infrastructure Library® are registered trademarks of AXELOS Limited.