Best Practice ITSM Processes of Knowledge Management
Knowledge Management provides the know how of the organization of the IT Service Provider worth to conserve in structured efficient way. to achieve this the know how is
taken respective collected

analyzed for relevance

stored in structured and retrievable manner

provided on request in structured presentation.
Knowledge Management is part of ► Service Transition
Processes of ITSM
Knowledge Management in detail
| | | |
| --- | --- | --- |
| Process of the ► ITSM Process Library | | Expected process result according to ITIL® and ISO 20000 |
| | | |
| Knowledge Management | | Collection, analysis, archiving and provision of knowledge and information of IT Service Management within the enterprise |
Main information flows and interfaces of ITSM
Knowledge Management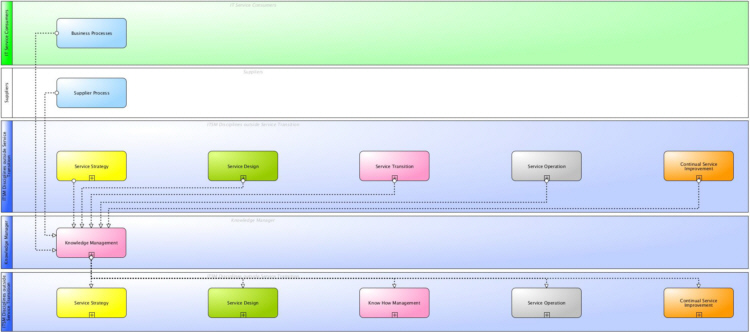 Click the image for a bigger view in a new window
(Documents within information flows only visible in our ITSM Process Collections)
Responsible roles of Knowledge Management
---
And now - how to realize this?
Chose our best in class process oriented approach based on practice proven process templates!
Stop unessential spending for external consulting and start towards a goal oriented implementation
All details about the process oriented implementation of Service Transition (and thus the Knowledge Management)
detailed interface diagrams with description of information flows

descriptions of the separate processes with process step details, responsibilities and involved roles (RACI) and involved systems as well

checklists for the implementation
you may find in our
Don't reinvent the wheel - if you save even a few hours of your ITSM implementation, the purchase has already paid off!
---
Free access to our ITSM Archive and update to the new release (due to the new ITIL® 4)!
All customers of the complete package of five ► ITSM Process Collections will get an everlasting access to our ITSM Archive (templates, KPI proposals, checklists) which we are creating during the further development of our ► ITSM Process Library - thus you receive always the most actual ITSM documents independent of the purchasing date for free!
Furthermore all customers of our complete package of five ►ITSM Process Collections and the ► ITSM Process Library with a purchase date of October 15th or later will get a free update to the new version (due to the new ITIL® 4), as soon as available.
Please click the above button in case you want to be informed in case of an update of our ITSM Archive.
---
ITIL® is registered trademark of AXELOS Limited.
▲